While our famous published author friends had their noses to grindstone attending publisher's cocktail parties and schmoozing with editors at the RWA conference, "The Free Three" (Debbie Pfieffer, Mary Louise Wells, and me) slipped off for a snack, a drink, and a fabulous view of San Francisco from The Top of the Mark at the top of Nob Hill. What a place! Incredible 360-view with glimpses of the Bay Bridge, the Golden Gate, Alcatraz and the skyline.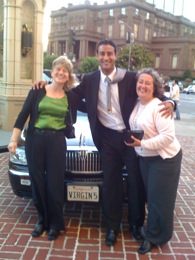 While noshing on truffle pate, smoked duck and assorted cheeses, "The Free Three" decided we didn't really want to be publisher-free any longer. It's time for us to get down, dirty and serious with our writing careers. In the Mark's suave atmosphere, with a background of live jazz and the city spread at our feet, we made a pact. For the next twelve months, until the 2009 RWA Conference in Washington, D.C., we're going to give it our all and push for a contract in twelve months. We made plans of action, along with a commitment to blog about our progress on each of our websites under the topic Contract in 12. You can follow our ups and downs, highs and lows and join the celebration as each of us sign the dotted line on a publishing contract at the end of the Twelve. At least, that's the plan.
This meeting of minds in the sky must have been fated, because as we departed and asked for a cab, we were ushered to the hotel limo and introduced to our driver–Clovis, the beautiful Brazilian man pictured above. What can I say?
Not only was he a very, very good driver (and very helpful with my seat belt since my hand was in a cast), he was easy on the eyes with a fab sense of humor, a mellifluous voice and seductive accent. Needless to say, this was the best ride I had in San Francisco.