From the first stage plans for my trip to San Francisco, I knew a few things would make it complete. First, I wanted to happen upon a Huey Lewis and the News concert in a small venue. No luck with that one.
The second thing on my list was an old fashioned souvenir pillow complete with the Golden Gate Bridge embroidered in glittery red and gold thread on creamy satin and trimmed with flashy gold fringe. I think I remember my grandmother having something like that on her sofa, and I just adored it. It was about the most beautiful thing my child's eyes beheld.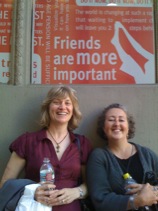 As I  cruised the Geary Street shops with Mary Louise Wells and Debbie Pfeiffer (pictured left), we did find a number of treasures. Of course parasols had to be purchased for our girls back home, along with the ubiquitous Alcatraz coffee mug for my hubby, a jade dragon for my personal power and several good fortune and wealth charms for my office. Since I killed by Lucky Bamboo plant, I thought a few new good luck charms in my writing office were a wise investment.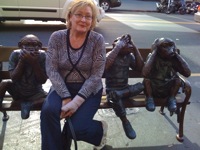 Oh, back to the quest for the pillow. None to be found. At least none as fabulously kitchie as the one of my memory. I settled for a rather nice pillow cover with the Chinese words for good fortune embroidered in  scarlet and gold.
And no honey, I won't put it in the living room.